Whether you are looking for an action packed holiday or a more sedate experience the region can offer you a full range of exciting and fulfilling activities to make your stay with us memorable.
Walking
Lots of fantastic mountain, hill and forest walking. You can just explore the local area or roam further afield. We have had several guests try routes from the book "Walking in the Auvergne – Crolla and McKeating".  There are several leaflets available from the tourist office (and we try to leave copies in the gites) with further ideas, routes, etc. You can also obtain further information on hiking and trekking in the region from these websites
Mountain Biking (VTT)
There are many exciting and challenging mountain biking routes for you to explore in the region. These can be tackled on your own or with friends, or should you prefer you can join one of the professional companies offering guided experiences in the area. This site gives a number of Mountain Bike Routes around the area! The tourist offices in Sauxillanges or Issoire have lots of information.
Horse Riding
There are a number of equestrian centres offering various types of riding experience. The nearest centres are at Saint Eloy Le Glacier and Usson, although there are various other centres in the Livradois and Volcano National Park.
Activity Centres
If you want to try mountain climbing, canoeing, quad biking or even field archery then you should follow the link below for Crapa' Hutte. Try a trip down the Allier in a canoe, a wonderful way to see the region from the peaceful and tranquil river, where wildlife abounds and nature can be seen in all its glory.
Alternatively perhaps you would like to play in the treetops like one of the many red squirrels in the region?  If so then try the Forest Adventure Park, it really is great fun. Or for the real dare devils try paragliding from the dormant volcano of Puy De Dome or hot air ballooning over the Volcano National Park.
Spend a busy day learning all about volcanos, geothermal activity, tectonic plates, and more at the excellent Vulcania exhibition.
Links:
Water Parks
A visit to one of the many plan d'eau or water parks is a real mountain experience. There is nothing like swimming in one of the clear cool mountain lakes on a hot summers day. Some of the larger lakes also offer the chance to take to the water in a sailboat or pedalo. Most of the parks offer restaurant or snack bar services, as well as other sporting activities, such as tennis, volleyball or children's play areas. The parks also offer anglers the chance to indulge in their passion, although should you want a more serious angling adventure then you should try the Allier for its Salmon and Trout or one of the deep mountain lakes for the artic char, large carp or fearsome pike. Angling licences are available from the Office of Tourism and various other local outlets.
Peaceful Auvergne
Perhaps you would like to indulge in some of the quieter and less stressful activities, such as a visit to one of the local markets (Billom – Mondays, Ambert – Thursdays) where you can sample local life and also some of the local cuisine. Maybe you would like to visit one or more of the various chateaux in the area. Some of them are fully restored while others remain a shadow of their former glory. There are also numerous museums covering all aspects of life in the Auvergne, from the rural farmers and berger's, through to Romanesque architecture and artisans such as the paper makers, leather workers and coutelliers. A handful of suggested visits:
Winter Auvergne
Why not plan a trip during the winter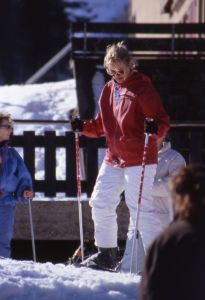 when the Auvergne becomes a paradise for skiing (cross country and downhill) as well as offering some more unusual spectacles such as waterfall climbing, car racing on ice and even ice fishing for artic char. The region boasts two international standard ski resorts at Super Besse and Super Lioran, as well as the less well known Mont Dore. Cross country skiing is available in locations throughout the Livradois Forez National Park.
We generally close down the gites during winter months as it is difficult to keep them warm and the plumbing unfrozen when they are unoccupied, but if you want to have a winter holiday, and book far enough ahead we can often accommodate.
Dining Out
There are many restaurants in the area offering a diverse range of exquisite cuisine. The area has many rural auberges with prices starting at around €10,00 per head through to more up market restaurants in the local towns where prices range from €20,00 to €45,00 plus per head. There are two Michelin listed restaurants within ten minutes of the Gite – Restaurant de la Marie in Sauxillanges is a must for any food fan – yet prices won't hurt.
Local delicacies include truffade (tomme cheese, potatoes, garlic, crème fraîche and bacon), cuissot de sanglier (roast boar), veau aux girolles de pays (veal with girolles mushrooms) plus tarte aux myrtilles (blueberry tart) and of course not forgetting the five gold medal winning cheeses…
We've built a list of local restaurants with contact details and comments on this page.
Fêtes and Festivals
The French love a party. They will have a fete at the drop of a hat, and are not beyond being clumsy with their hats…
We strongly recommend the Fete du Roi de L'Oiseau festival in September, when the whole town of Puy en Velay re-enacts its renaissance past for five days with costumes, parades, markets, shows and activities for all the family – a real spectacle.
Many of the local towns have a festival of some sort, there's often something going on. The tourist offices should be able to tell you if there's anything happening during your stay.
Tourist Information Offices.
These are well stocked with brochures, leaflets and maps of all sorts of activities local and further afield, and often the staff speak good English as well if your French is struggling.
The tourist office in Sauxillanges is found in the Marie building, with an entrance on the East side of the building near the Quincaillarie.
The tourist office in Issoire is in the Carrefour carpark, as you drive in to the supermarket from the road the petrol station is on your left and the tourist info office is on your right. It has it's own parking spaces or you can just walk across from the main supermarket carpark.
The tourist office in Ambert is just to the south of the circular Marie building.