Where are we?
What3Words location: ///barcode.trucked.brags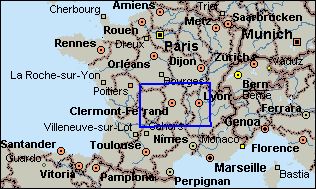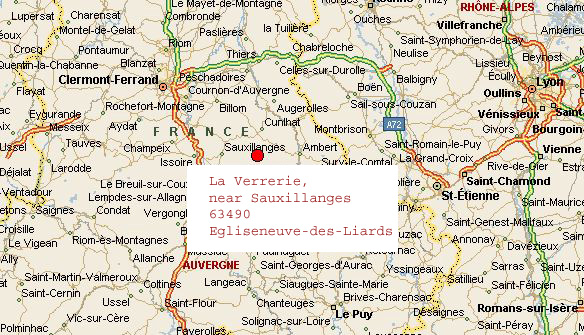 The above maps will help you locate is in France, and in the general area.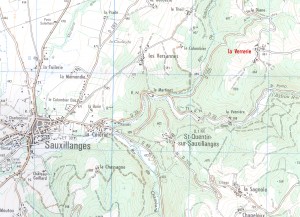 This is a map of the hamlet – it's an extract from IGN map number 26329 "Issoire", which is available at many local shops.
There should be a copy of this full map in each gite, if it's been mislaid, you can obtain it in Carrefour or similar, it's a blue cover fold-out map, and is ideal for walking or cycling holidays!
By Car:
You can bring your car across on the Channel Tunnel or by ferry and then motor down to us. It should take you approximately 8 hours from Calais so you may wish to take an overnight break at one of the many Campanile or ETAP hotels on route. Further information and booking is available at any of the links below
Channel Tunnel
P&O Ferries
Sea France
ETAP Hotels
Campanile Hotels
By Train
With the availability of a train service direct from Waterloo to Paris why not consider the train as an option. You can change at Paris to connect with a high speed service to bring you direct to Clermont Ferrand or Issoire. Once there you can pick up a hire car.
Eurostar Bookings
SNCF Rail travel
Hertz Car Hire
Avis Car Rental
Europcar Hire
By Air
Ryainair have discontinued their flights to St Etienne, sadly. There are now a number of airports all approx the same distance away – and much nearer but with no "cheap" flights, Clermont Ferrand. Air France and BA both serve Clermont, the "regular" price is around £400 but cheap deals as low as £150 have been seen! For cheap flights, RyanAir and Easyjet routes as follows (note – distances and driving times as given by Mappy.fr, and are the "fastest" routes to Issoire.) NEWS – in Summer 2011 FlyBe will be serving Clermont Ferrand from Southampton airport.
Clermont Ferrand – 25Km – 30 mins. Air France, BA. FlyBe from Southampton – 2011!!
Lyon – 227Km east – 2h35 (motorway route) – Easyjet – Stanstead, Gatwick.
Grenoble – 324Km east – 3h30- Ryanair – Edinburgh, Glasgow, Liverpool, East Mids, Birmingham, Stanstead, Bristol, Dublin, Kerry, Brussles, Stockholm.
Limoges – 275Km north west – 2h55 (motorway) – RyanAir – Edinburgh, Liverpool, East Midlands, Luton, Stanstead, Bristol, Bournmouth.
Rodez – 210km south (all motorway) 2h20 – Ryanair – Standstead, Dublin.
Ryan Air
Easy jet
FlyBe
British Airways
Hertz Car Hire
Avis Car Rental
Europcar Hire
We have also secured a 5% discount for car hire from Rhino Car Hire – contact us for the discount reference once you've booked your stay.
Important – Insurance
PLEASE we can't emphasise strongly enough our recommendation that you take out suitable travel insurance for your trip. If you are driving, please also take out breadown cover which will cover you in France. And finally, UK holidaymakers, don't forget your European health card. This is very useful, it costs you nothing and ensures that should you require any hospital treatment whilst in France, the NHS will pick up the tab!