It's a good drive from the ferry or tunnel. Sometimes we catch an early crossing and do the trip in one day. Sometimes we stop en route. If we stop, sometimes we just crash at an Etap, but sometimes we make a proper evening of it and look for a nice hotel with a good restaurant. Even if we're just slumming it in a Formule 1, we look for a reasonable place to refuel first.
Here are some of the places we've found in places which make a convenient break in the journey.
Neufchatel-en-Bray
Neufchatel is about 90 mins drive from the ferry/tunnel, if you're travelling via Rouen (less if you crossed to Dieppe!!) and about 20 mins short of where we generally stop for the night if we've had a late crossing.
We found Chez Jean Pierre still open at 21:30 in the middle of town. I knew things were looking up when the proprietor (Jean-Pierre, presumably!) presented me a carafe of water in "top sommelier" fashion as if it were a £200 bottle of Petrus!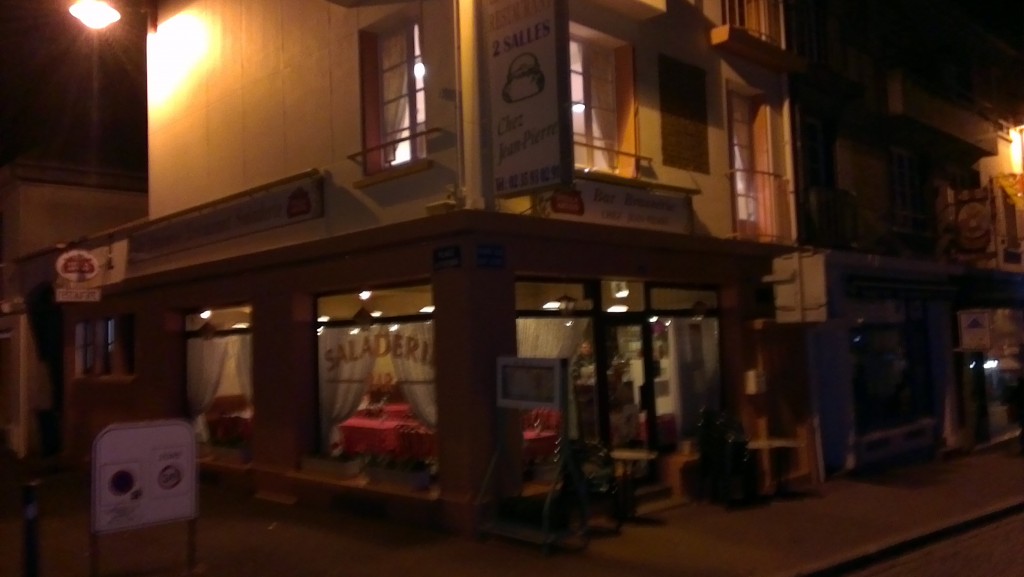 Hard to imagine more friendly staff though not intrusivly so. Food was good if "standard" and quick, and not expensive. We had a €16 "menu" which was four courses including a fantastic looking cheeseboard. (The cheapest menu was €11 – and  lunchtime-only one at under €10.) The veal escalope and the faux-fillet were good if not stunning and well cooked chips! Just what you want for a quick stop on a long journey, I'd say. The only snag may be, when we quizzed them about the opening hours, it appears they will close of an evening when there's no-one left, so if you call in late on a quiet night, you may find them already closed.  Phone ahead maybe if running late?  8 Grande Rue Saint-Jacques  76270 Neufchâtel-en-Bray, France
02 35 93 02 91
Sandillon
Sandillon is a small town on the south bank of the Loire just to the east of Orleans. This puts it about 3 hours from La Verrerie, 5 from Calais. This is just right for us when we want to leave La Verrerie around lunchtime having not rushed too much with the packing, or on our last visit of the year when we spend the morning draining plumbing, winterising the pool, etc., as well as just packing the car.
Un Toit Por Toi is a fantastic little auberge. When we first found it it was called "Au Lion D'Or" and may still show up as such in some searches.  The hotel comes under the "Logis de France" banner and the rooms are in keeping with that – not ultra modern but reasonably equipped with en-suite plumbing and TVs. The beds are also very comfortable and, in the rooms we've used, as large as can sensibly fit the space – which makes sense to me as you are there to sleep, not use the floor space for… much else. Room 20 in the Stable has a king size bed which gave me the best night sleep I've had in ages.
The restaurant is fantastic, with a choice of several menus at a range of prices, and a long wine list – the top end of which featured some bottles which would've required me to extend my morgage!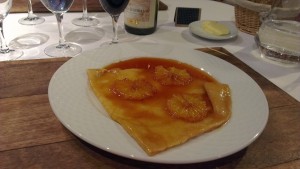 Friendly staff with some English spoken.  The restaurant is popular with the locals as well as the hotel guests, and has plenty of tables in three separate areas, but even though we've found it often quite full, we've never found the kitchen or serving staff were overwhelmed, food has always been excellent, service top notch.  Even if you choose a "standard" like my Crepe Suzette here, it'll be good. My only complaint – the flames died down before I had grabbed my camera!
Un Toit pour Toi, 2 Rue de la Villette, 45640 Sandillon, 02 38 41 00 22